Visit the UK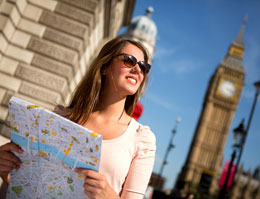 UK Visa for Tourism
The United Kingdom is a lovely place to visit and a huge tourism destination in the world. If you would like to travel to the UK for tourism you will likely need to apply for a visa. There are some circumstances where you do not need a visa, but the United Kingdom Visas and Immigration suggests that you at least gather the required documentation to prove that you can visit the UK.
UK Business Visa
Business visas are available for short trips in the United Kingdom and are very similar to tourism visas. If you would like to immigrate to the UK instead of just visiting you may need to file under one of the immigration tiers. Most of the time, you will need to have tier authorization in order to work in the UK.
UK Visa Requirements
People who intend to visit the UK must be able to prove that they meet certain requirements in order to enter the country. You will also need to submit documentation that shows that you meet these requirements.
Most tourists enter on general visitor visas which require that you be at least 18 years old, if you are younger you will have to apply for a child visa, which is a different process.
The maximum amount of time you can visit the UK for is 6 months. This can sometimes be extended to 12 if you are accompanying a student in the UK.
You must be able to pay for yourself while you are in the UK and be able to pay for your way home when your visa expires. If you stay past the date stamped in your passport you may be subject to penalties from the UKVI.
You also cannot get a job while in the UK, become a student, "switch" your immigration status, get married, or participate in medical tourism with a visitor visa.
There are many different documents that you can use to prove the above requirements, some of which are:
Return plane tickets,
A passport,
A bank statement, or
Proof of employment in your home country.
Do I need a UK Visa?
There are some instances where you do not even need a visa to travel to the UK and you should check appropriate sources to see if your country supports a visa waiver with the UK. Even if your country reciprocates with the UK regarding visas you may still want to get a visa particularly if you have a criminal record or have previously encountered criticism from the UKVI.