UK Test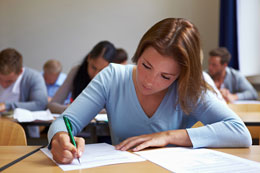 UK Settlement
To settle in the UK (indefinite leave to remain), you will have to pass the Knowledge of Language and Life in the UK Test (KOLL).
Life in the UK Test
The KOLL Life in the UK is designed to make sure you are aware of the basics of UK life-things you should know if you are planning to live there permanently. It tests your knowledge of UK customs, government, law and values.
The Life in the UK test will cover the following topics:
The values and principles of the UK
Traditions and cultures from around the UK
Events and people that have shaped the UK's history
UK government and law
How to get involved in the UK community
The test is to be taken on a computer in a designated testing facility in the UK. You will be asked 24 questions and be given 45 minutes to complete the test. There is no limit to the number of times the test can be taken, so don't worry if you don't pass the first or even the second time.
Language Test
To pass the KOLL English test, you must speak English*, understand spoken English and be able to read English. You can meet this requirement in one of four ways:
You are a national of a majority English speaking country.
You have obtained a degree taught in English.
You can prove that your knowledge of English is equivalent to B1 (intermediate level) on the Common European Framework of Reference for languages (CEFR).
You can obtain a speaking and listening qualification in English for Speakers of Other Languages (ESOL) at Entry levels 1,2 or 3. You must study at an accredited institution on a course of study which uses citizenship-based teaching materials.
*If you are taking the test in Scotland, you may request to take it in Scottish Gaelic. If you are taking the test in Wales, you may request to take it in Welsh.